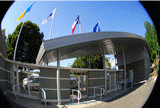 Foire Expositions de Pau
7, bd Champetier de Ribes
64000 Pau
France


+33 (0)5 59 40 01 50


+33 (0)5 59 40 01 55


Web Site

E-mail

Google map
Exhibition Name
Cycle
Next Date
EROPOLIS PAU
Erotic Show and Exhibition
once a year
04.10 - 05.10 2014
SALON STUDYRAMA DES ETUDES SUPÉRIEURES DE PAU
Student and Training Fair in Pau
unknown
22.11 - 22.11 2014
FOIRE DE PAU
Fair of Pau
once a year
Sept. 2015 (?)
Please note ! All dates are subject to changes. Contact organizers for more information before making arrangements.