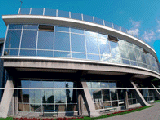 Belgrade Fair Grounds
Bulevar vojvode Misica 14
11000 Belgrade
Serbia


+381 (0)11 2655-001


+381 (0)11 2655-001


Web Site

E-mail

Google map
Exhibition Name
Cycle
Next Date
TECHNICAL FAIR BELGRADE
International Fair of Technique and Technical Achievements
once a year
13.05 - 17.05 2013
INTERNATIONAL FAIR OF TECHNIQUE AND TECHNICAL ACHIEVEMENTS
Active and passive electronic components and modules, industrial sensors, electrical engineering - equipment and devices for production, transfer and distribution of electric power, lighting, metallic, machinery production, metal processing industry...
once a year
13.05 - 17.05 2013
SEE GEB - GAMING EXPO BELGRADE
Trade Expo of worldwide manufacturers of gaming and multiplayer machines, related equipment, software, surveillance equipment, etc.
once a year
21.05 - 23.05 2013
PARTNER
Arms and Military Equipment Trade Fair
every 2 years
25.06 - 28.06 2013
BIOBALKAN EXPO
International Organic Foods, Processing Machinery and Equipment Trade Fair
once a year
11.09 - 14.09 2013
BIRO-EXPO
Bureau equipment and supplies (computers, printers, paper and spare parts), equipment for transfer and telecommunications, communications equipment and furniture, office supplies
once a year
25.09 - 28.09 2013
GRAPHIMA
Raw materials and accessory materials for graphic industry, graphic equipment, spare parts, finished products, graphic services
once a year
25.09 - 28.09 2013
CONBAK EXPO BALKAN
International Trade Fair of Machines, Equipment, Ingredients, Aditives and Spices for Confectionery, Bakery and Catering
once a year
25.09 - 28.09 2013
PACKTECH EXPO BALKAN
International Trade Fair of Packing Materials Machinery and Equipment
once a year
25.09 - 28.09 2013
HYGIENE IN INDUSTRY EXPO
Equipment and Materials for Hygiene in Industry & Business International Trade Fair
once a year
25.09 - 28.09 2013
ENERGETIKA
International Energy Fair. Electric Power Production in Hydroelectric and Thermoelectric Power Plants, Cogeneration, Electric Power Transmission and Distribution Network, Electric Power System Management...
once a year
07.10 - 09.10 2013
ECOFAIR
International Ecology Fair
once a year
08.10 - 11.10 2013
MEDIPHARM - MEDIDENT
Electro medical Equipment, Laboratory Technology, Diagnostics, Therapeutics, Medical Technology, Work Outfits, Drugs, Dental Equipment, Medical equipment, Medical Vehicles, Orthopedics, Informatics
once a year
10.10 - 12.10 2013
BELGRADE CHILDREN'S FAIR
Belgrade Children's Fair
twice a year
10.10 - 13.10 2013
DODIR PARIZA
International Convention and Fair of Cosmetics, Solariums Equipment, Wellness, Spa and Hair care
twice a year
12.10 - 13.10 2013
INTERNATIONAL MODERN EDUCATIONAL EQUIPMENT FAIR
Teaching Aids, Instruments and Didactic Materials, Furniture General and Specialized, Machines, Instruments and Tools for School Workshops, Language Labs, Specialized Science Cabinets, Computers, Internal TV Operating Supplies, Toys, School Equipment...
once a year
20.10 - 27.10 2013
BELL FAIR - EDUCATION FAIR
Education Fair
once a year
20.10 - 27.10 2013
INTERNATIONAL BELGRADE BOOK FAIR
Presentation of Domestic and Foreign Book Production, Buying and Selling of Copyrights, Records, Audio and Video Cassettes, Art Reproductions, Exhibition, Sale
once a year
21.10 - 28.10 2013
CACIB - INTERNATIONAL DOG SHOW
International Show of all Breeds of Dogs, Food and Equipment
twice a year
03.11 - 03.11 2013
FURNITURE FAIR BELGRADE
Furniture of all Kinds and for all Purposes, Complete Interior Decoration, Machines and Tools for Wood Processing
every 2 years
11.11 - 17.11 2013
ETHO XPAHA
Fine Wine Presentation. All kinds of Food, Food Processing Equipment, Machines for Ready-Made Food, Packing, Wrapping and Transport
once a year
26.11 - 29.11 2013
BIZNIS BAZA
International Entrepreneurship Fair for Small and Medium-Sizes Enterprises
once a year
28.11 - 30.11 2013
EXPO-ZIM
Winter Sportswear and Equipment, Winter Tourism and Recreation, Exchange of Second Hand Equipment, Sale of New Equipment
once a year
05.12 - 08.12 2013
INTERNATIONAL NEW YEAR'S FAIR
Amateur Sport Competitions, Audio-Video Game Competition, Ice Skating Ground, an Amusement Park, Films, Sales
once a year
14.12 - 29.12 2013
ITTFA
International Fair of Tourism
once a year
Feb. 2014 (?)
NAUTIKA
Ships of all types, Water Sport Equipment
once a year
March 2014 (?)
BG CAR SHOW
Passenger Cars, Car Trailers, Equipment and Accessories, Power Train, Running Gear, Chassis, Vehicle Equipment, Supporting Industry, Trade Organizations, Associations, Clubs, Media
every 2 years
March 2014 (?)
MOTOPASSION
Motorcycles, Scooters, Bicycles, Spare Parts, Equipment and Accessories, Related Industry, Trade Organizations, Associations, Clubs, Media, etc.
once a year
March 2014 (?)
INTERNATIONAL COMMERCIAL VEHICLE SHOW (OICA)
Commercial Vehicles, Lightweight Commercial Vehicles, Trailers and Semi-Trailers, Bodies, Engines and Transmission Systems, Running Part of Vehicles, Chassis, Vehicle Equipment, Related Industry, Logistics, Telematics, Transportation, Insurance...
once a year
March 2014 (?)
BEO WINE FAIR
Wine and Wine Distillate Presentation. Wine Tourism Promotion
once a year
March 2014 (?)
INTERNATIONAL BUILDING TRADE FAIR
Research and designing, construction and maintenance of buildings, building construction and civil engineering, hydro construction, construction materials, structures equipping, machines, devices and equipment, adaptation, reconstruction, restoration…
once a year
April 2014 (?)
HORTICULTURE BELGRADE
International Horticulture Fair. Planting Materials, Seeds, Decoration Plants, Interior Decoration, Watering Systems, Horticulture Machinery, Feeding and Protection, Remedies...
once a year
April 2014 (?)
BEIRE
International Property & Investment Fair
once a year
April 2014 (?)
Please note ! All dates are subject to changes. Contact organizers for more information before making arrangements.